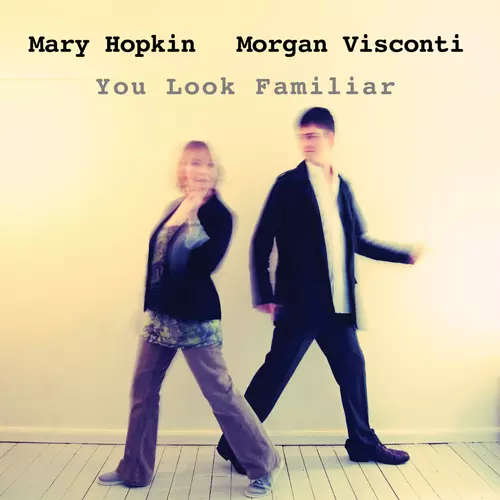 You Look Familiar
Available Formats
Tracks
Price
Buy
CD Album
10 tracks

£

12.95

Download Album (

MP3

)
10 tracks

£

7.99

Download Album (

WAV

)
10 tracks

£

7.99

Download Album (

MP3

)
10 tracks

£

7.99

Download Album (

WAV

)
10 tracks

£

7.99

Download Album (

MP3

)
10 tracks

£

7.99

Download Album (

WAV

)
10 tracks

£

7.99

Download Album (

MP3

)
10 tracks

£

7.99

Download Album (

WAV

)
10 tracks

£

7.99

Download individual tracks
From £0.99
Description
Mary Hopkin and Morgan Visconti - You Look Familiar
Written, recorded and performed with Mary's son, Morgan Visconti. Lyrics and melodies by Mary, instrumentation and arrangements by Morgan. Additional vocals by Morgan and Jessica Lee Morgan.

Released 2010
Reviews
Piers Ford
www.cry-me-a-torch-song.com
...Hopkin seemed bent on putting as much water between her and the days of her greatest commercial success as possible. And although there have been occasional snippets of new work in the intervening years, interviews became rare and accordingly, she acquired a reclusive, increasingly enigmatic reputation – not unlike that of Kate Bush.
Now, she has released a fascinating new album (You Look Familiar) written and produced in partnership with her son Morgan Visconti – and it's a treat from start to finish, not least because those pristine vocals are utterly undiminished by the years. But it is also a work of real, thought-provoking depth that references Hopkin's folk roots ("Chime" is the most overtly folk-accented track) and influences as she relates a sequence of rounded, modern stories, from the opening track ("America") with its tale of the young stowaway heading East to the uneasy warnings of "Eve's Revenge" and the easy, resigned chug of "Dog Eat Dog" – a catchy pub song.
Intriguingly, many of the arrangements are cradled in infectious, synth-style riffs, beats and echoing overlaid harmonies (some courtesy of daughter Jessica Lee Morgan, a singer in her own right) that often create a retro sense of lush 1980s electronic pop.
But don't be seduced simply by the sound. Piercing barbs lurk in the lyrics, reminders that Hopkin now has the lifetime of experience that she was only able to hint at as the 18-year old singer of "Those Were the Days". There is darkness and stinging cynicism, too. I don't know who she had in mind, writing "Heaven Knows". But even if her target was personal, the stinging words could equally apply to higher, more public figures and I can think of one or two politicians who would be usefully caught in their firing line.
I love "People Say", a wise and touching account of an unexpected encounter that could lead to something more, the motherly advice of "Walk Like Me" and the epic, hypnotic forebodings of "Pretenders". With You Look Familiar, Hopkin has emphatically shaken off the shreds of nostalgia and reminded us of a voice and pedigree that have much to offer in 2011. Don't leave it so long next time, Mary. We'd like some more – and soon.
Tracklisting
CD Album (MHM006DIG)
America

People Say

Heaven Knows

Pretenders

The Earth Turns

Time Of Your Life

Eve's Revenge

Dog Eat Dog

Chime

Walk Like Me
Download Album (MHM007)
Download Album (MHM006(DIG))