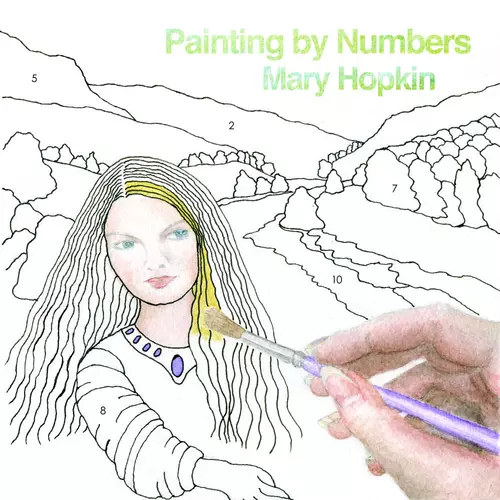 Painting By Numbers
Available Formats
Tracks
Price
Buy
CD Album
10 tracks

£

12.95

Download Album (

MP3

)
10 tracks

£

7.99

Download Album (

WAV

)
10 tracks

£

7.99

Download individual tracks
From £0.99
Description
Mary Hopkin - Painting By Numbers
A fine gem of an album. Stripped-down and bare, or "nearly naked" as she puts it, these songs are straight from Mary herself, recorded at home or with friends. With just the barest instrumentation, Mary's voice shines through on 10 of her own songs. Friends Benny Gallagher and Brian Willoughby help out on songwriting and guitar on one track each, but the rest is pure Mary.

The album features "Gold and Silver" which has been gathering favourable attention on Youtube.

Rescued from darker reaches of her attic, these recordings have no master back-up, which means they will stay as they are... for now.

Released 2013
Reviews
Piers Ford
www.cry-me-a-torch-song.com
Somewhere in a parallel universe, Mary Hopkin presides as an insightful grande dame of British popular music, afforded her due as a fine singer and an astute, thoughtful songwriter.
In reality, of course, she has long-since eschewed such a high-profile path, preferring to maintain a low-key presence in the industry, taking a gently cynical stand against some of its more outrageous manifestations, and popping her head above the parapet on Twitter from time to time.
Thankfully, however, there is still new music coming from the Hopkin household, and that lovely, expressive voice – with the extra shades and textures of maturity – continues to captivate.
Following on the heels of You Look Familiar (her 2010 collaboration with son Morgan Visconti) and the contemplative Spirit, her latest album – Painting by Numbers – is an intimate set of mainly home-made recordings featuring just Hopkin and her guitar, with occasional guest musicians adding some harmonic depth at the mixing stage.
As she explains in her sleeve notes, most of them have been lifted from DAT copies and even a worn cassette (the gorgeous "Incurable Romantic"), the master tapes having vanished long since. Polishing is kept to a minimum. A handful have been mixed and engineered in the studio, a few harmonies added here and there, but always without sacrificing the sense of a spontaneous take, complete with its slight hisses and clicks.
Painting by Numbers emerges as a sweet, thoughtful, honest work of integrity, showcasing Hopkin's distinctive, effortlessly wistful voice and making it seem impossible that more than 40 years have passed since "Those Were the Days" made her a household name.
The essential melancholy of that signature song, with its undertow of life-lessons learned the hard way, found the perfect vehicle in Hopkin's timbre, and it unravels further through these ten numbers, from the title track, through the touching reassurance of "Fair-weather Friends" (mixed by Alan Britton, who has also added some rich, steely guitars, and featuring Hopkin's own backing vocals mixed by Visconti), to the poignant "Love, Long Distance".
Part timeless folk melody, part meditation on love's ability to survive the passing of time, the Visconti-mixed "Gold and Silver" is the standout track on the album, a delicate and hypnotic threnody that hangs tantalisingly in the air before it dies away.
There are other delights. "Improvisation" is a wordless chant which works its way under your skin, "Fresh out of Favours" a world-weary emotional stock-take, "Die for you" a reminder of the power of constancy, and "Teardrops" a cautionary look in the mirror. Rounding things off, "Love Belongs Right Here" perfectly captures the lump-in-the-throat moment of parting, and is one of several moments when the album's bittersweet quality gives your heartstrings an unexpected tug.
Studio interventions aside, you are left with the overriding sense of a singer at peace with her art and content to let it speak for her, plainly and simply.
Tracklisting
CD Album (MHM008(CD))
Painting By Numbers

Fair-Weather Friends

Love, Long Distance

Gold and Silver

Improvisation

Fresh out of Favours

Die For You

Teardrops

Incurable Romantic

Love Belongs Right Here
Download Album (MHM008)